In keeping with Marlow White Military Uniforms' tradition of bringing superb quality at affordable prices, we have partnered with WKC to bring you selected Swords and Sabers.
Since 1883, Weyersberg, Kirschbaum & Co. (WKC)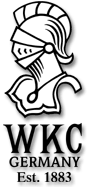 has been manufacturing military swords, sabers, and cutlery in Solingen, Germany. This city is renowned since the Middle Ages for its metal-working and craftsmanship in sword making.
Today, as the oldest and largest sword manufacturer in Germany, WKC is the leading supplier to military academies and services worldwide for ceremonial swords and sabers. WKC swords and scabbards are hand-made with more than 100 steps. WKC's skilled craftsmen give the same attention to quality and details that Marlow White's reputation has been built on.
To see actual photos of WKC swords compared to swords from other manufactures and other countries, visit our Sword Buying Guides.