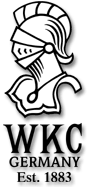 We have received many inquiries from cadets at Texas A&M asking if we can outfit the Corps of Cadets with quality WKC Solingen Army officer sabers bearing either of the two university's etches.
We offer sabers, with either the "Texas A&M University" or the "Agricultural & Mechanical College of Texas" etch.
Our sabers are made available through Holick's Boot Manufacturing Company in Bryan, Texas. As members of the Corps know, Holick's is famous for providing quality boots to the Corps of Cadets. For more information, call 979-846-6721.
Important note for alumni: Currently, because of trademark issues, Texas A&M University restricts our sales to members of the Corps of Cadets only.
Due to our pricing approach, we are often asked if our sabers are replicas ... we shudder at the thought. These are the same German-quality sabers for which both WKC Solingen and Marlow White are known and have been providing to US Army officers for years.
For those of you who will be accepting commissions at graduation, we hope you will also keep us in mind as you consider your uniform purchases.
Texas A&M Saber Product Pages:


Please note: Gold and Gold/Blue Sabers are pre-paid, special order items only.
Additional etching information: Read about the different etches, and see samples of both.