Wearing the US Army Saber
Pictured is the worn with a , , and an . The saber chain, saber guard, and one of the two types of saber belts (a or a ) are mandatory accessories for wear with the Army Saber, although a (not pictured) may be worn in lieu of the saber guard.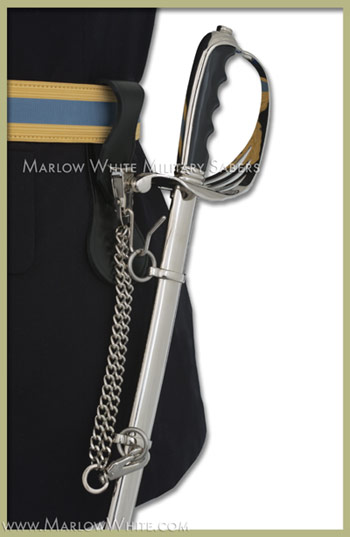 The saber is worn on the left side, but, due to the angle of the saber, is worn more towards the back (very near the location of your back, left trouser pocket).
The attaches to the metal post of the .
The scabbard attaches to the saber chain via the hook and clip. As the picture shows, the hook is attached to the top scabbard loop, and the clip is attached to the lower scabbard loop. The saber is worn with the hand guard facing in (resting against you), and the saber will angle towards the front next to your left leg (the tip will often be against your leg, touching somewhere between your knee and ankle).
The is worn in a similar manner and position as the saber guard. The square hook on the saber chain hooks onto the nickel buckle of the saber dress strap.