WKC & Marlow White: Uncompromising Quality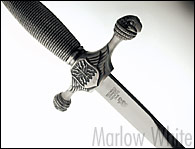 We have found WKC's swords to be the highest quality available on the market. Before choosing to WKC as our sword supplier (and subsequently becoming WKC's US distributor) we compared the quality of various sword manufacturers. WKC's quality surpassed that of the others and has continued to do so to this day. We know that our reputation is at stake, and that is why we inspect every sword before shipping it to a customer.
This page provides some general information for those that are interested in more information about WKC's quality.

Certification: WKC is DIN ISO 9002 certified. The international standard DIN EN ISO 9001:2000 systematises all operational processes - from product conception via the production process to waste disposal. A certificate provides documentary evidence that quality management is being systematically applied in the company.

Photo-based sword comparisons: this is probably the biggest validation of WKC's quality. We took swords from several manufactures and photographed them in the exact same lighting with no retouching. We then put high resolution images of the results up for you to review. If you have a few minutes, take a look at the sword comparisons and see for yourself.
High resolution photos: each of our swords has a high-resolution view available. We aren't afraid to show you what our swords look like "full-screen."
Detailed product specifications: each of our swords has a detailed product specification. Several specific examples of quality that are in the specifications: you'll notice that the handle on our Navy Cutlass is "cast brass" (most of our competitors used stamped metal - not cast). Our Army Officer Saber's blade is nickel-plated before being etched; Army specifications allow such a finish and we feel the mirror-like result is far superior to our competitors' (who etch directly onto the blade).

Commitment to military traditions: WKC has partnered with Marlow White to reintroduce several pieces for which quality pieces had become hard to find. The Army NCO Sword was the first one, followed by the Public Health Service Sword. More recently, the Navy Cutlass Model 1860 was updated. As we designed our Navy Cutlass we consulted with the highest-ranking enlisted member of the US Navy, and received a glowing commendation of our Cutlass's quality. The leader of the Air Force Band requested that we convert our Air Force Sword into an Air Force Band Sword/Dagger. We did so, and the Band wore the Sword's during President Bush's inauguration.
Our commitment to quality: we stand behind every sword that we sell. We inspect each sword before shipping it out. If you are not pleased with your sword you may return it to us within 14 days and we will fully refund your money. All of our swords are shipped via insured carriers; if you receive a sword that has been damaged in transit please contact us immediately and we will ship you a new sword and file a damage claim with the carrier.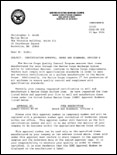 Marine Certification: only one service branch offers a certification process for their swords, the Marine Corps. Both our Officer and our NCO Marine Swords have been certified by Marine Corps Systems Command.
Our History: we are very proud of our customer-service record. We have been pleased to serve thousands of Soldiers over the years, from Privates to Four-Star Generals.
Our Customers: AAFES, Air Force Academy, West Point, Coast Guard Academy, The Citadel, Naval Academy.