Attaching the Marine Officers sword knot
This page contains information about the Marine Sword Knot from the Marine Corps Uniform Regulation MCO P1020.34G. As a public service, we have created a video to more clearly demonstrate the proper method for attaching the sword knot.
Sword Knot
The service sword knot is braided of black leather or approved synthetic material, with a simulated large knot, two sliding keepers, and a hook and eye closure. The sword knot will be attached to the sword at all times.
The knot is attached to the sword by passing the small end through the eye in the pommel and securing it to the hook above the large end of the knot. One keeper will be drawn taut immediately below the pommel; the other immediately above the large end of the knot. Both strands of the knot are then looped in a clove hitch over the rear hilt at the cross guard, next to the acorn, and drawn taut so that the large end of the knot hangs free and does not fall below the upper brass rings of the scabbard. The clove hitch "crossover" is worn inboard.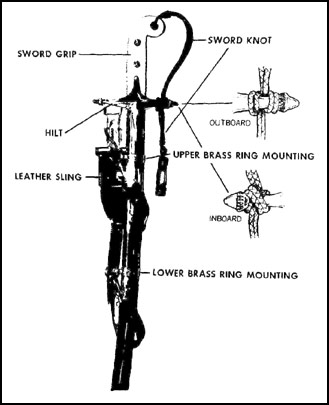 3031. SWORD AND ACCESSORIES, OFFICERS
Sword
The sword may be prescribed with all uniforms except the evening dress and utility.
Sword blade lengths are available in a range from 26 to 35 inches. The regulation sword length for an individual is determined with the sword at the carry position. The tip of the blade will fall not more than one inch above or below eye level.
The sword blade is a cut and thrust blade of stainless or forged steel. The sword blade has prescribed etched ornamentation and a scroll on each side bearing the words "United States Marines" reading on the right side from hilt to point, and on the left side from point to hilt. The sword blade has a double channel from the bottom of the etching to the point of the blade, and all exposed surfaces are either polished stainless steel or heavily nickel-plated on a copper base, then polished.
The Mameluke-type grip of yellow metal with leaves of ivory or ivory-like plastic is secured by 2 five-pointed star rivets of yellow metal. The pommel has an eye of yellow metal through which the loop of the sword knot passes and a straight cross with acorn design on the ends.
The owner's name may be engraved on the sword at the individual's option. If engraved, the owner's name (reading from point to hilt) will be etched or engraved on the scroll on the left side near the hilt. A Marine officer who inherits/purchases a sword previously engraved with another Marine's name may wear and maintain it as long as the sword remains serviceable. Removing the previous owner's name is not required.