Marine Corps Officer (Mameluke) Sword
We advise our Marines to be very wary of other web sites that claim to be selling certified Mamelukes. Some sites make outright false statements about certification. If the certification number is not on file with the Marine Corps Systems Command, the certification is not current. Anyone can make a cheap copy of the Mameluke and stamp a number on the spine. When we say our swords are certified - it is an honest claim.
Our certification is from the Marine Corps Systems Command.
We currently offer two Marine Swords:
Why a Premium Grade Mameluke?
Just like our Marines, we always seek improvement. First, we refined the etching on the blade. Already beautifully done, we made it better. Historically, WKC has absolutely superb blade craftsmanship and very good casting quality on their swords. Wilkinson, on the other hand, had absolutely superb castings (the drag on scabbard, the acorns on the hilt) and very good quality blade work. When Wilkinson went out of business, WKC purchased their casting tooling. Now WKC has combined the best of two sword companies to bring our Marines
the best Mameluke available in the world.
Premium Certified, with Stainless Scabbard
Click here for more details and to order.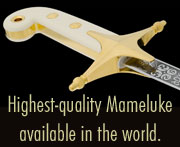 Information:
Certified: Yes
Certification number imprinted on spine of blade near handle: Yes
Scabbard type: Stainless steel
Etch: Recently upgraded
Castings: The best quality available with robust detail. Above and beyond certification standards.
Availability: 26" - 34" - in stock