Below is a profile photo showing a close-up of the Navy Sword scabbard drags. Below our discussion, we show the image of WKC's scabbard drag (without the red) and two other manufacturers' scabbard drags from different countries. All images are completely unretouched.
Click for higher-resolution images.

Details of the Fish (or Sea Serpent): The scales of the fish on WKC's scabbard are more finely detailed than the other countries.
Zigzag Design: WKC has a more intricate zigzag design; Country Two is very similar. We subjectively feel that Country One has a very harsh design.
Recessed Screws - A Very Important Issue: The fittings of each scabbard are secured with screws. WKC works very hard to inset their screws, so that as you wear your sword the screws do not catch on your clothing. With other manufacturers, we have noticed significantly more screws that are not inset or which have burrs that will likely catch on your uniform (causing pulls, tears, and snags). The sword from each of the other countries had some screws that were not well-recessed or which had burrs on the screws.
[click for larger resolution images]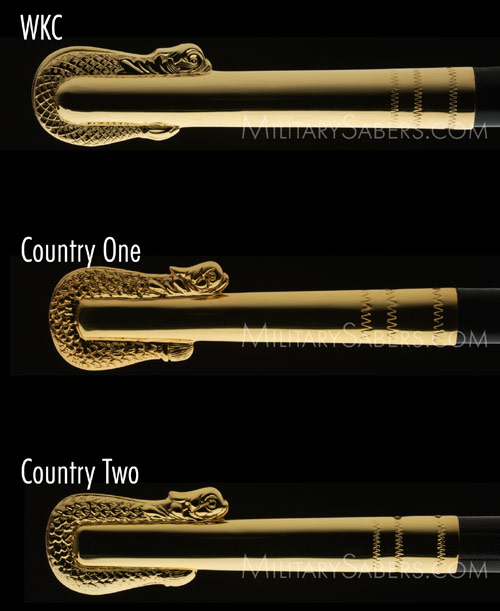 Return to Navy Sword Comparisons.
Return to All Sword/Saber Comparisons.
[photos are not retouched]