Below is a photo profiling some of the differences we have seen on the Navy Sword blade etch. Under the photo, we discuss each numbered issue. Below our discussion, we show the image of WKC's etch (without the red) and two other manufacturers' etches from different countries. All images are completely unretouched.
Click for higher-resolution images.

Details of Ivy Design: WKC uses fine lines and has a very intricate "floral/ivy" design. The other countries tend to use thicker lines.
Fouled Anchor and Shield Details: The stars that are incorporated into the Stars and Bars Shield illustrate the difference between WKC's fine details and the other countries' details. Take a look at the higher resolution images to compare the stars. Also note the similarity of the other countries' etch, leading one to think that one country copied the etch of the other. WKC's etch is unique in detail.
Signal Flags: Just to the left of the name inscription block (not pictured and located out of the frame to the right), there are three signal flags featured in the design. Country One's signal flags seem to run together.
Blade Spine: The spine of the blade is visible in the lower part of each photo. A leaf pattern is etched onto the spine. We have found WKC's design to be more intricate and detailed than both other countries.
Not Pictured - Etch Depth: The depth of WKC's etch is one of the most pronounced differences in quality, setting WKC apart from every manufacturer we have seen. One cannot see the depth in this profie view, but can see the depth with the angled view on the Sword Guard page.

[click for larger resolution images]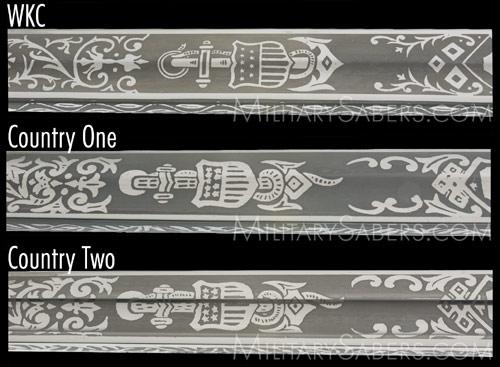 Return to Navy Sword Comparisons.
Return to All Sword/Saber Comparisons.
[photos are not retouched]