Below is an angled-view photo profiling some of the differences we have seen on the Navy Sword guard. Under the photo, we discuss each numbered issue. Below our discussion, we show the image of WKC's guard (without the red) and two other manufacturers' guards from different countries. All images are completely unretouched.
Click for higher-resolution images.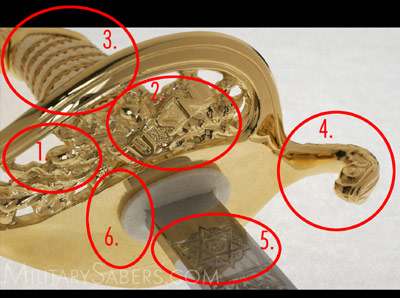 Guard Holes and Detail: The openings in the casting help form the details of the leaf and are perhaps the most apparent detail difference of this angle. Each of these openings must be opened up and cleaned out by hand after the guard is cast. Both County One and Country Two have less holes, and therefore less detail in the leaf, than WKC.
"USN" Detail and Depth: WKC and Country Two have good depth and detail; Country One is less distinct.
Grip Texture: In the background of the photo you can see the difference in grip texture. Historically, the handles were made of manta ray skin, so modern materials should replicate the random-size nodules of the ray skin. WKC replicates this look better.
Sea Serpent Head Thumb Guard: A sea serpent's head is molded into the thumb guard of each Navy Sword. Our subjective opinion is that the WKC serpent head is more definitive and "real" looking.
Etch Quality: The angle allows you to see the exceptional depth and detail of the WKC etch. Country One has some depth to the etch; Country Two has virtually no depth and is very superficial.
Felt Stop: A small detail, but WKC's felt stop is a finer and denser composition that the other countries' felt, allowing for more durability of the felt. Note: the darker color on the felt is not a defect, but is normal from the light oil on the blade impregnating the felt.

[click for larger resolution images]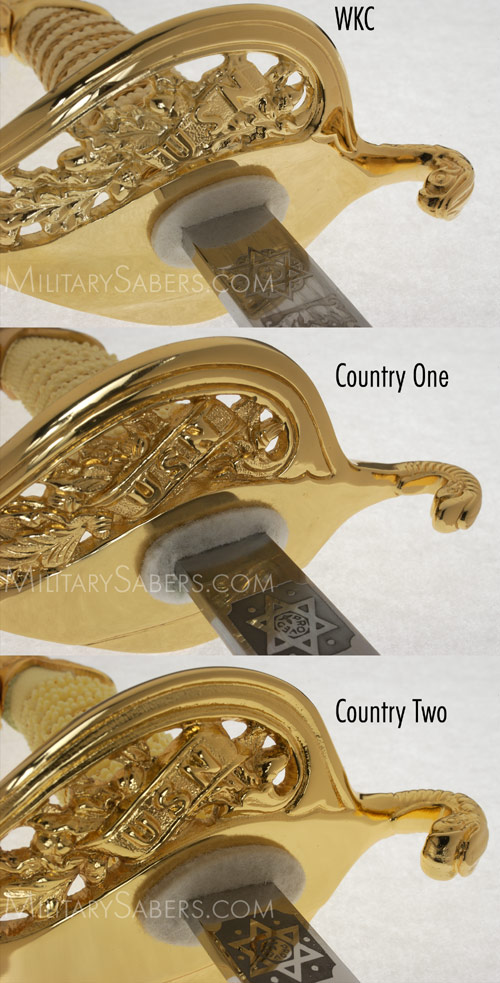 Return to Navy Sword Comparisons.
Return to All Sword/Saber Comparisons.
[photos are not retouched]