Below is a profile photo profiling some of the differences we have seen on the end of the Navy Sword grip. Under the photo, we discuss each numbered issue. Below our discussion, we show the image of WKC's grip (without the red) and two other manufacturers' grips from different countries. All images are completely unretouched.
Click for higher-resolution images.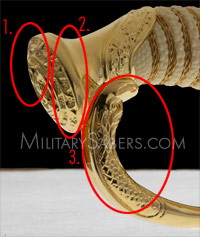 End Nut Shape: WKC's end cap has a convex shape, whereas other manufactures often have a flat end cap. We subjectively feel that WKC's end cap presents a better image.
End Nut Fit: The end cap is in fact a nut. Some countries do a better job fitting the nut flat to the rest of the grip; the gap can even vary from sword to sword. Country Two's end cap had a severe gap between it and the handle on this particular sword; the gap may not be the norm for this country, but it apparently can occur.
Sea Serpent Detail: The handle features a number of intricate castings. You can judge for yourself between the details of the serpent featured on each of the three swords. The details of the scales are especially noteworthy.

[click for larger resolution images]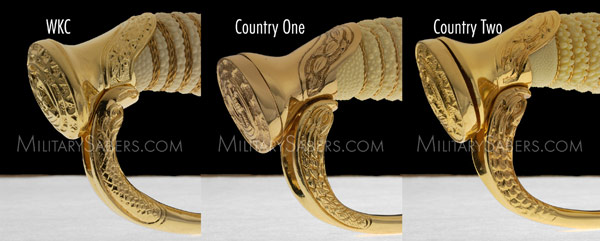 Return to Navy Sword Comparisons.
Return to All Sword/Saber Comparisons.
[photos are not retouched]