Marine Officer Sword Etches
The etch is perhaps the most difficult to depict by photograph because of the difference in the chromium content of the stainless steel, the inability to depict the depth of the etch, and the way the light reflects in unretouched images.
In each case the horizontal "lines" and color variations that appear in the images are a result of light reflecting off of the bevel and the blood groove in the blades. All images are completely unretouched, so we did not remove these lines and color variations.
The Marine Corps Emblem (Eagle, Globe and Anchor): The emblem on WKC's etch has very clean detail. The emblem of Country 1's etch lacks detail and has more of a "blob" appearance.
Flag Standard: Again, WKC has a distinct break between the top of the flag standard (pole) and the edge of the etch. Country 1's flag standard runs into the etch's edge.
Lettering: Country 1's lettering bleeds into the etch's border, while WKC maintains a clear and visible break, as required by USMC specification drawings. The USMC specifies that the etch's border remains unbroken by the letters U, S, and M. The WKC etch has a distinct and visible break between the border of the etch and the bottom and top of the three letters. The letters of Country 1's etch run into the border.
Symmetry (scroll to see the detailed image below the first): WKC's etch is more symmetric than Country 1's. Notice the completeness of the "end" of the etch design in this detailed image.
[click for higher-resolution images]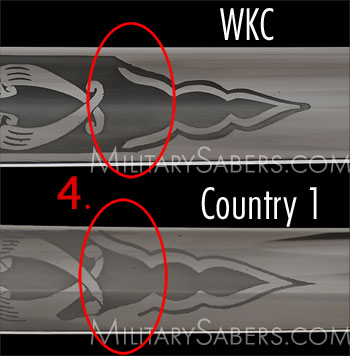 Return to Marine Officer Sword Comparisons.
Purchase a Marine Mameluke Sword.