Marine NCO Surface Defects
Scabbard Screws: As discussed and illustrated on the scabbard fit page, the scabbard fitting screw should be inset to avoid snagging uniforms. WKC's screw is inset (Important note: Unfortunately, we noticed that the lighting on the scabbard makes the WKC screw appear to have a slight burr on the right-hand side. We double-checked the screw and found it to be smooth and free of any burr. This is a good example of how we do not retouch these comparison photos, even if we wanted to correct for lighting abnormalities). Country One's screw is flush. Country Two's massive screw is not flush and is a hazard. All images show the same angle, perspective, and relative size.
Surface Defects : All hand-made swords will have some minor blemishes or slight "waves" that are simply a result of being hand-made. With other manufacturers' swords, we have seen more pits and dents that we would consider inconsistencies in manufacturing that were not properly completed or repaired. The example below highlights some of the surface defects we noticed on Country One's scabbard.
Click any image to see a page with very large images. All images are completely unretouched.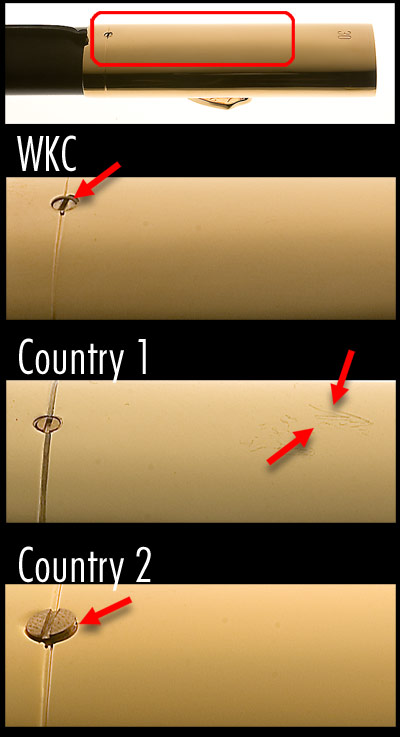 Return to Marine NCO Sword Comparisons.
Return to All Sword/Saber Comparisons.
[photos are not retouched]