Scabbard Fit: The fit of the scabbard leather into the scabbard fittings is an important sign of craftsmanship. The drag fittings of WKC and Country One both have good fit. Country Two has a significant gap at the fitting.
Scabbard Screws: The fittings of each scabbard are secured with screws. WKC works very hard to inset their screws, so that as you wear your sword, the screws do not catch on your clothing. With other manufacturers, we have noticed significantly more screws that are not inset or which have burrs that will likely catch on your uniform (causing pulls, tears, and snags). WKC's screw is properly inset. Country One's screw is also properly flush with the fitting's surface. Country Two uses a very large screw and did not properly inset the screw. Another angle for viewing the screws.
Click any image for a high-resolution picture.
All images are completely unretouched.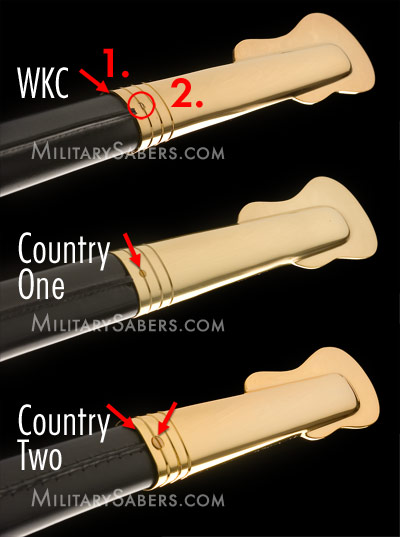 Return to Marine NCO Sword Comparisons.
Return to All Sword/Saber Comparisons.
[photos are not retouched]