Sword End Nuts & Gold Plating
End Nuts: WKC's end cap is a nut that can be removed (though more easily with a special nut-shaped wrench), so that in the event a component of the sword is damaged, one can replace the component. Both Country One and Country Two lack easily removable end caps and would require more extensive repairs if the sword is damaged. Country One, in particular, is soldered, rendering it nearly impossible to repair in a cost-effective manner.
Color Variations: WKC's gold plating is the correct color for 24-carat gold, attained by maintaining at least 99.5 percent gold in the electroplating bath (we explain the gold-plating process in our FAQ section). Country One's plating is a dull gold color, indicating a very poor gold content in the plating. Country Two's color is too yellow, which indicates that the manufacturer did not properly maintain the gold content in the plating solution and allowed the gold content of the solution to fall, likely below even 90 percent, to give a plating that is less than 24 carat.
Click any image for a high-resolution picture. All images are completely unretouched.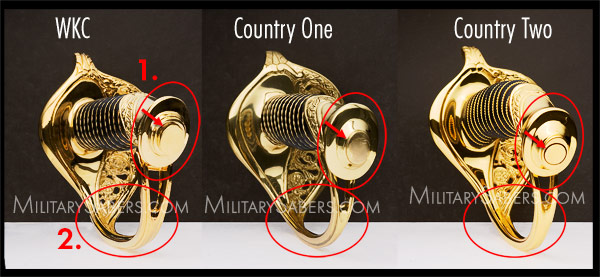 Return to Marine NCO Sword Comparisons.
Return to All Sword/Saber Comparisons.
[photos are not retouched]