Identifying Authentic Heraldic Items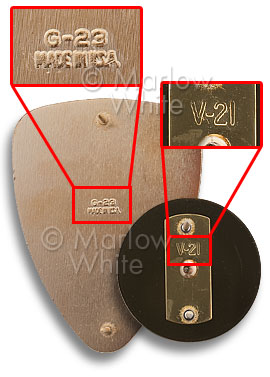 The Institute of Heraldry grants each manufacturer a certificate of authority allowing them to produce heraldic articles such as insignia, badges and decorations as outlined in United States Code (18 USC 704) and the Code of Federal Regulations (32 CFR 507).
Manufacturers must display a unique hallmark on their items, which is a letter-number combination tying back to their certificate of authority. 
Especially with the new CSIB's, look on the back to verify there is a hallmark from one of the authorized manufacturers.  It is a violation of federal law to manufacture these items without authority, so make sure yours is correct.
Our policy at Marlow White is to do things correctly.  We will not enable a get-rich-quick crook. Think we have an opinion on this?
(photo at left depicts the authentic Heraldic mark on the back of a CSIB and an Enlisted Branch Insignia)