Marlow White's "Extra Cloth"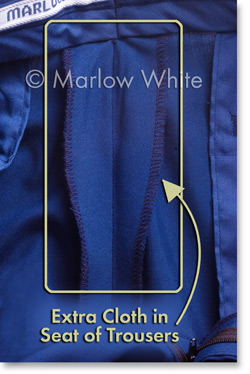 Our Army Service Uniform trousers/slacks feature extra cloth inside the seam of the seat. Take a look at the photo at left and you'll see the extra fabric that we include. Look at other dress trousers in your closet and you'll likely notice we include more cloth in the seam than most other clothing companies.
We add extra fabric as a service to our Soldier customers. Many Soldiers will never need or use this extra fabric; however, we have noticed that some Soldiers' uniforms will tend to "shrink" while hanging in their closet. (We have noticed this shrinkage often occurs at an accelerated rate once the Soldier retires.) For these Soldiers and their tailors, the extra cloth will allow your tailor to let the trousers out up to 3 inches at the waist, possibly giving you a more economical choice than purchasing a new pair of trousers. Please note that if the trousers have been worn or dry-cleaned often, the seam let-out may show a color variance in the cloth.
Click if you'd like to see an even higher resolution image.
Just one more demonstration of how Marlow White provides the absolute best value for the Soldier.