<h1>Premium™ vs. Classic™ Weave Uniforms</h1>
Fabric Weave: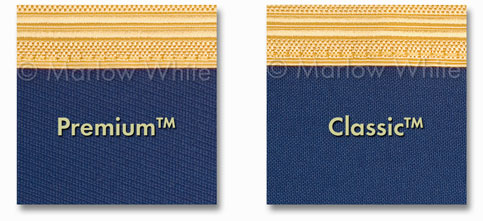 Fabric Weight: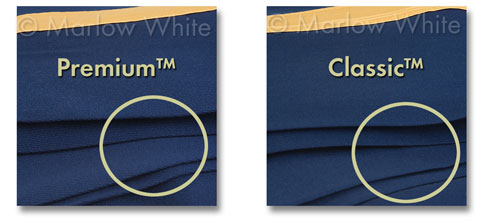 Why is Our Premium™ Cloth Better Than Classic™ Cloth?
1) More Durable Weave and More Historical - Our Premium cloth is a "double" weave. One can determine a Premium fabric by the diagonal line within the weave pattern versus the plain pattern of the Classic weave. The double layers of the Premium cloth traces its history back to the Indian War period of our Nation, when Cavalry Soldiers needed a more durable cloth to counter the saddle wear. For Soldiers today, the Premium provides a more durable cloth if the uniform is worn more than a few times each year. Click the images above for a higher-resolution image.
Better Look and Less Wrinkling - The Premium cloth is a "heavier" cloth than the tropical, with about twice the yarn than the Classic. The Premium hangs better on the Soldier's body, keeps the creases longer, and is not prone to wrinkling. While one might think a "heavier" cloth equates to a "hotter" cloth, the Premium cloth will still be comfortable for wear for most occasions, except perhaps outdoor events during the summer (when nothing is comfortable). The Classic™ weave, by contrast, will be somewhat cooler during the outdoor summer events; however, the Classic cloth will not be as warm during the cool fall, winter, and spring seasons. The images above show the creases of the trousers to give you a sense of the "body" differences between the two cloths. Click the images above for a higher-resolution image.