In Memoriam: Randy Abbott (1950-2013)
Marlow White's Chief Executive Officer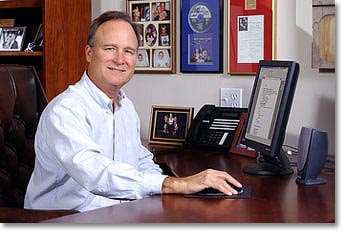 Randolph (Randy) Bay Abbott of Leavenworth, Kansas, died on Saturday, July 20, 2013 at the age of 63. Randy was born March 19, 1950 in Tulsa, Oklahoma, the youngest son of Halene and William Leslie Abbott.
He was the loving husband of Joy Abbott, devoted father of Bay, Molly and Megan Abbott; loving son of Halene White; beloved brother of Linda Abbott Sutton. Randy was a loving brother-in-law, step-brother, uncle, and great uncle to many.
He is preceded in death by his brother, William Leslie Abbott II of Lawton, Oklahoma; his father, William Leslie Abbott; and his step-father, Marlow V. White of Leavenworth, Kansas; his step-brother, Tom White of Vashon Island, Washington; and his step-sister, Lillian Shagrin of Seattle, Washington.
Randy grew up in Lawton, Oklahoma and graduated from Lawton High School in 1968. After studying Business Administration for four years at Oklahoma University in Norman, Oklahoma, Randy traveled extensively for the next two years in South, Central and North America.
In 1974 he joined the Peace Corps. After three months of Language and Agricultural training in Costa Rica, he was assigned to Paraguay, South America for the next two and a half years.
After returning from the Peace Corps in 1977, Randy began working alongside his mother, Halene and step-father, Marlow White in the family Military Uniform business for eleven years until Marlow's death in 1987. At that time, Mrs. White turned control of the business over to her son as Chief Executive Officer of Marlow White Military Uniforms.
He moved the company from Delaware Street to the 400 Seneca location in 2003, where it's located now proudly serving the military and public safety personnel. The current location originally built in 1914 as a glove factory, was totally restored to its original condition in 2004. The renovation was recognized by the Leavenworth Main Street Program as an outstanding economic development project.
One of Randy's many passions was playing golf with friends and in tournament competitions. He also liked to fish in ponds, lakes, and the deep sea, but what he really LOVED, was to go "Catching."
Randy co-owned the Palma Royale Hotel in Bocas del Toro, Panama, that he and his partners built in 2008, where he anticipated traveling as often as he could. He also enjoyed meeting people and had a gift for listening and giving great advice.
Randy was known for his honesty, integrity, sense of humor, wisdom, compassion, storytelling and love of his family and life. He always loved his dogs and especially cherished his precious little dog Chloe. He was an extremely well loved and admired man and will be deeply missed.
Visitation will be Tuesday July 23, from 4 to 8 pm at Immaculate Conception Catholic Church, 711 N. 5th Street, Leavenworth, Kansas. The funeral will also be held on Wednesday July 24, at the same location at 10 am. Donations in lieu of flowers can be made to (LAWS) The Leavenworth Animal Welfare Society, Inc., 728 Cherokee Street, Leavenworth, 913-651-5297, or to St. Luke's Hospice, 888-303-7576, and Leavenworth Catholic Charities, 716 N. 5th Street, 913-772-0463.