Natick-Certified Workmanship
The US Army Natick Soldier Systems Center, or Natick, is responsible for certifying Army products. All of our uniforms and fabric are certified by Natick.
The Certification Label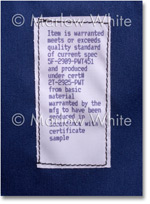 Inside our certified clothing items you will find a tag similar to the one at left. The tag warrants that the uniform item is made to the standard for both materials and workmanship specified by the Army.
Companies that are selling non-certified uniform items will not have the tag inside their uniforms. They may also use a tag and omit the certification number. For a company to sew a certification tag inside a non-certified uniform item is a felony.
Click to see a higher-resolution image of the tag.
Our cloth is also certified, and our uniforms are made in the United States.
The Bottom Line:
There will always be unscrupulous vendors out there looking to prey upon the unsuspecting Solider to make a fast buck. We feel it is taking care of our Soldiers to educate them about these scoundrels. Be sure you get what you are paying for and are supposed to wear. Not all uniforms are certified.