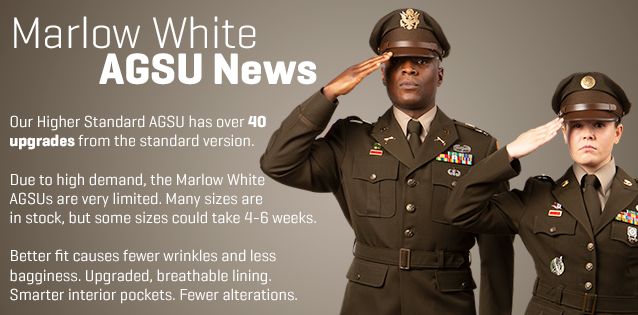 Authorization Memorandum

Summary

The Program Executive Office (PEO) Soldier provided an update on its progress at the Defense Logistics Agency's (Troop Support - Clothing & Textile) Joint Advanced Planning Brief for Industry held November 15-16, 2017. While the designs will not be finalized until after the wear test, the current working design combine many aspects of the iconic World War II uniforms while also introduction new modern features:

Male Coat: Dark greenish brown, four-button design with a belt and a bi-swing back. Officers have ½-inch brown braid.
Female Coat: Similar to the male coat design. The Army decided to include top pocket flaps for uniformity of appearance to provide a baseline for positioning accoutrements.
Male Trousers: Taupe color and similar to current design, but without trouser braid for all Soldiers.
Female Slacks: Incorporates side pockets, but no back pockets. Has hidden waistband pockets to provide added utility for Class B wear.
Female Skirt: This item is still in development. Pencil design. An optional skirt may have a comfort waistband. Skirt will incorporate a "V" or kick pleat at back hem.
Male Shirt: Tan cloth with a tapered design. Enlisted does not have shoulder loops, but wears sleeve chevrons. Officers have shoulder loops and wear rank tabs.
Female Shirt: Similar to the untuck version of the ASU shirt in general design.
Ties: Unisex ties for both males and females, available in different lengths.
Headgear: Unisex Service Caps with "walnut" brown leather visors and chin straps, incorporating the iconic "crushed" look of WWII. The uniform also has garrison caps. Berets remain authorized for wear.
Footwear: Brown leather with brown socks
Overall CSA Guidance: Make the uniform as functionally comfortable as possible without giving up a sharp, military appearance. Make the female uniforms as close as possible to the male uniforms without compromising female anatomical fit. Reduce the "bling" on the uniform by limiting pin-on items, perhaps incorporating subdued buttons, etc.
Trouser Belt: Unisex Woven belt with open-faced, antiqued finish buckle.
All-Weather Coat: Like the current black coat, but in Heritage Green.
Leather Gloves: Brown.
Windbreaker: Like the black design, but Heritage Green.
Female Tuck-In Shirt: Still in development.
Ike Jacket: Proposed as unique male and female item, but it is still in development.
Bomber Jacket: Still proposed and in development.

Possible Timeline

| | | | |
| --- | --- | --- | --- |
| Event | Estimated Date | | |
| CSA Approved Initial Prototype Design | Complete | | |
| Female Focus Group Input | Complete | | |
| R&D Contract Awarded | Complete | | |
| Wear Test Begins with 200+ Soldiers of the Northeast Recruiting Battalion | Complete | | |
| CSA Makes Final Decision | Complete | | |
| Initial Roll-out to Training Bases | Has begun. | | |
| Roll-out to Rest of the Army | Has already begun in limited amounts with a few vendors. Some optional items may take 6-9 more months. | | |

Related Articles

Images

Additional Information

Disclaimer: Because Marlow White is not a member of the Army Uniform Board, nor a government agency, we are providing information only as we hear it from various news sources and from within the industry. PEO Soldier and Natick currently have the lead on prototype and design efforts.
Like and follow us on Facebook for Weekly Updates on the progress of the new AGSU!