Wearing the Public Health Service Sword
The is worn like a with the . The belt is typically worn under the coat (often the Service Dress Blue coat). The front emblem on the is not the PHS emblem - it's the Navy emblem; we are working with WKC to develop the round PHS buckle for the sword belt.
Wearing the Sword (from the Navy reg): Wear the sword belt under the coat. The short belt strap and lock swivels are passed through the coat opening on the left side (as shown) and the longer strap hangs free. Hold the sword with the right hand and attach the back swivels to the scabbard rings as shown.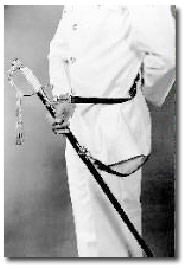 Twist the sword one half turn in a clockwise direction and suspend on the sword hook with the uppermost scabbard ring. The sword handle faces aft when properly worn.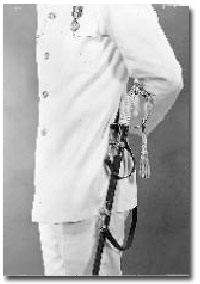 Note: When wearing an overcoat with Full Dress Blue, the sword goes through the slit in the bridge coat and the lower loop goes through the back vent in the coat and the sword attached - same as Full Dress Blue. A sword is not usually worn with the all-weather coat.
How to wear the Coast Guard & Navy Sword Knot (includes a video demonstration).
Jump to: