Below is a close-up photo of the Navy Sword sword blade tip. While the differences are not as pronounced as the Army Saber Tips, we do note some differences. Under the photo, we discuss the numbered issue. Below our discussion, we show the image of WKC's tip (without the red) and two other manufacturers' tips from different countries. All images are completely unretouched.
Click for higher-resolution images.

Blade Tip Shape: The Navy Swords are ceremonial and do not have sharpened edges; however, the tip is somewhat sharp. We advise caution when handling the sword. We subjectively feel WKC's tip has the most elegant line, with Country Two's shape being a close second. We dislike the blunt shape of Country One and also note that this particular sword tip from Country One was not uniform when it was cut and ground.
Please note: the slight streaks on Country One's sword are not defects. The swords are covered with a light oil to prevent rust. When photographing the swords, we attempt to polish and clean each sword before photographing it, but apparently we missed some of the oil on County One's sword tip.

[click for larger resolution images]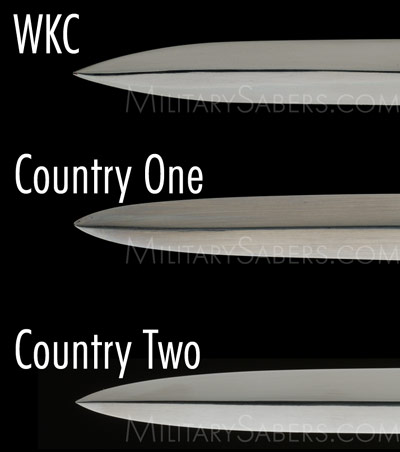 Return to Navy Sword Comparisons.
Return to All Sword/Saber Comparisons.

[photos are not retouched]