Below is an end-view photo profiling some of the differences we have seen on the end nut of the Navy Sword grip. Under the photo, we discuss each numbered issue. Below our discussion, we show the image of WKC's end nut (without the red) and two other manufacturers' end nuts from different countries. All images are completely unretouched.
Click for higher-resolution images.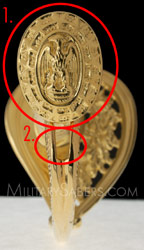 End Nut Details: The stars and the eagle show variance in detail, especially the eagle's wing and feet. The differences in the stars are very difficult to discern in these photos. We feel WKC's end nut has the best detail in the casting. Note: The darker coloring of Country One's end nut is due to the end cap being flatter (or not as convex in shape) than the other two and is not due to discoloration of the plating; the metal reflected the camera more than the other two end caps.
Sword Knot Opening: The sword knot opening varies in shape per each sword. Some are boxier than others. In addition, some of the openings are smoother and more polished than others. Finally, WKC's sword knot hole fits the braid of the sword knot better.
[click for larger resolution images]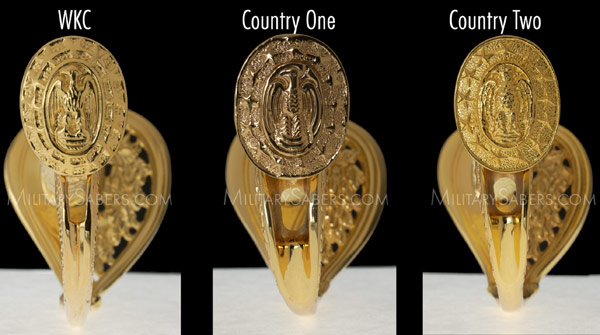 Return to Navy Sword Comparisons.
Return to All Sword/Saber Comparisons.
[photos are not retouched]