Marlow White's "Spot-the-Fraud" Contest
Jump to the various parts of the page:
- Contest Background and Story (moved to the bottom of the page)
- Contest Overview
- What Happened to the Guy?
- Soldiers: Keep Spotting Frauds!
- Photos of the Uniform
- Contest Winners
- What You Said About the Contest!
- General Comments about the "Solution"
- Long List of Problems with the Uniform

Contest Overview:
Wow, did I underestimate how tough it would be to run this contest! After getting all of the results in, I took a little vacation only to return to the long-awaited announcement for the new ASU. Life has been a little rough since, plus this guy had a BUNCH of errors on his uniform. I thank you for your patience.
By my count, there were 55 errors on this uniform, with a total possible score of 113 points. I think our original entry form (for the first day or so) had 20 lines on it, then we expanded it to 30 lines.
What Happened to this Guy?
Many of you asked what happened to this guy. Well, we were working with a police organization in Missouri for the theft portion. Apparently, Collier ended up in Indiana and Kentucky, and apparently got some deserved jail time. One of our VFW customers e-mailed us as follows:
When I 1st saw the uniform in the "Spot the Fraud" contest it had a fake tomb guard and a unearned Drill Instructor badge on it..... Yeah the guy that did that came here from up in Indiana. Please note that he was wearing 10 service stripes... one stripe for every 3 years of service. Collier was only 42 years old.... do the math..... 42 minus 30 equals ???? LOL... He spent several months in the jail here. Then moved to a town about 30 miles away and started "Helping" the local Army recruiters. One other thing that tipped us off was that he had to be told to get a hair cut. U think a retired CSM would have to be told to get a hair cut.
And yes, he had a forged Sentinel (Old Guard) Badge and a Recruiter Badge. I sent the "Tomb" Badge to the Old Guard on the premise that where one of these is die struck, there will be many. And Mary gave the Recruiter Badge to a young Recruiter who was in our store one day.
Soldiers: Keep Spotting the Frauds!
I tell civilians that a Soldier's uniform is his or her resume' and that another Soldier looking at it can tell much about the individual – what he (or she) has done, what his background training is, and how much pride and attention-to-detail the Soldier has by how it looks.
Many of you had some factual errors concerning badges or the wear of items on the Class A vs. the Dress Blue (now becoming moot with the ASU). I encourage you to review AR 670-1 every now and then. Soldiers are the most qualified to spot frauds like this guy (and there are other frauds out there), and we particularly owe it to the true Silver Star and Purple Heart recipients to expose guys like this.
Tim Cahill
President
Photos of the Fraudulent Uniform: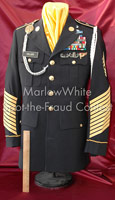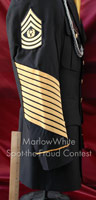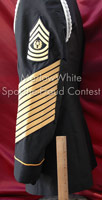 Contest Winners:
First Place (ASU Trousers):

CPT Dave Harvey,

66 points


1/18th CAV, CA ARNG

Second Place (Intercept™ Bag):

MAJ Ron Sharer (Retired),

63 points

Third Place (Awards Tote):

CPT Jeff Fuller,

62 points


3-7 FA Bn, Schofield Barracks, HI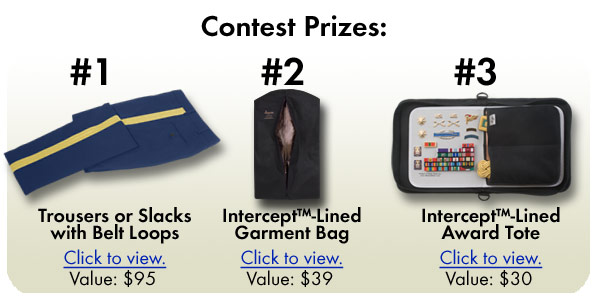 What You Said About It:
"Who is he, Superman? ... Overall too much stuff, makes him look suspect right away."

"I think this is the worst sewn uniform I have ever seen. Even if I had earned all of those awards and decorations I never would have worn that jacket because it looks like the patches and stripes were sewn on by an infant."

"I hope this bozo is being prosecuted to the fullest extent of the law."

"Somebody actually did this? Firing squads still happen in UTAH!!"

"That was a lot of fun. Might have been more fun had the uniform shown signs of having been torn from the posers body."

"Fun exercise. Good NCODP."

"Why is this guy not in jail? Wow, it's not too hard to bust him if you look hard enough. I hope this guy was keelhauled and fed the the krakens."

"Thanks for putting this on - had a lot of fun doing it! And as a Life VFW member, I hope I never meet this 'CSM' Collier."
General Comments About the "Solution":
First and foremost, I do not present this as the "approved solution." You may find even more errors as you keep looking. Noted.
We did

not

sew this uniform!!! What a mess.
As we pointed out in the contest introduction, this is a Dress Blue Uniform under the current AR 670-1, not a newly announced Army Service Uniform as announced by the ALARACT – no service hash marks, no overseas service bars, no distinctive unit insignia, no unit patches, no leader tabs, etc.
This guy's uniform is a mess concerning timing and decorations concerning various campaigns and combat engagements. We made the following baseline assumptions:

He entered the service prior 14 August 1974, but did not serve in Vietnam.
He left the service prior to 11 September 2001.
As an SF Soldier, he likely saw action in El Salvador, Grenada, Panama, or Somalia between 1981 and 1994, for which no campaign medal was awarded, but for which he could have earned a CIB and have been wounded.
Noted – we're giving benefit of the doubt on the above.

Distinctive Infantry Items – shoulder cord, backing discs, etc. AR 670-1, para 28-30 a (4) (a) is very specific about when authorized Soldiers may wear these, in short when in an Infantry/SF MTOE unit, in recruiting, in some training units, and in transit. This guy is presumably out of the service, whereupon AR 670-1 does not allow the wear of these items (though, I personally would not argue with a retired IN/SF CIB-awarded Soldier who decided to wear it).
NCOPD Ribbon: many thought he should be wearing a "5" numeral, but AR 600-8-22 changed the maximum numeral to "4" with no grandfathering.
Many thought he had too many Group 4 badges. He was wearing 3 of the Group 4 badges and 5 badges total, which is authorized.
Many commented on not wearing the marksmanship badges. Para 29-16 b (2) states, "Normally all Soldiers wear at least one marksmanship badge," but then goes on to indicate that the wearer can select the badges to wear if has more than 5 total badges, with precedence given to the combat badges. We let this Soldier "drop" his marksmanship badge.
Many thought that the Purple Heart and Silver Star should have stars for multiple awards. The oak leaf is used for both of these.
Many commented on not wearing the German Marksmanship Award (Schuetzenschnur) on blues, but AR 670-1 does not say which "uniform coat" it can be worn on.
Many thought he should have a Bronze Star Medal from Desert Shield/Storm. Maybe, but maybe not, as many Soldiers received ARCOM's for service there.
Is it possible to have 2 CIB's, but only one campaign medal? Yes, as the CIB was authorized for El Salvador, Grenada, Panama, and Somalia during this period.
SF Soldier with an EOD Badge is certainly possible if the Soldier was assessed from an EOD MOS.
The Army of Occupation Medal was awarded through 2 October 1990 for Soldiers assigned to Berlin, so this award is certainly feasible.
Some thought the white shoulder cord was an aiguillette, and then tore it up for everything – wrong color, wrong, type of cord, wrong attachment, not an aide, etc. We saw this as an Air Force cord that is not authorized as one violation.
Spacing between ribbons can either be 1/8" or nothing – para 29-7 a (2)(a)
Category 1 Error – Clear Violation of AR 670-1,
Including Gross Sewing Errors (3 points each):
Combat Infantry Badge (2nd Award) is group 1 and should be above Master Parachutist Badge (group 4) – para 29-17.
Senior Explosive OD is group 3 and should be above Master Parachutist (group 4) -para 29-17.
Cannot mix mirror-like and non-mirror finish badges - para 29-17 b (1).
SF Branch Insignia is upside down – para 28-10 b (31).
Should be wearing Command Sergeant Major Insignia, not Special Forces - para 28-9 b (6).
Distinctive Unit Insignia (DUI) not worn on Dress Blue shoulder loops (Note - but is ok on the new ASU) –para 28-22 f (1).
American Legion pins not authorized (and they are crooked) – para 28-22 a & b.
Wearing different American Legion pins. A DUI set consists of 3 pieces that are the same – para 28-22 d (2).
Not wearing Regiment Distinctive Insignia – para 28-23 a.
White shoulder cord (Air Force parade) not authorized (and if it was an infantry cord or aiguillette, it would be attached incorrectly).
Service Stripes are not sewn into the seam, but the fabric is folded over onto the service stripe ends and glued down (some identified this as poor pressing from the photo, which I accepted for this error) – para 28-27 c (2).
Soutache should be 3" above sleeve hem and at 2-1/8" is grossly in the wrong position –para 20-5 e.
Defense Distinguished Service Medal is awarded to officers only — AR 600-8-22, para 2-3.
There are 5 knots on Army Good Conduct Medal vs. 10 service stripes--both are awarded for 3 years of "Honorable Service" & "Exemplary Behavior" .
United Nations Service Medal out of precedence (follows Overseas Service Ribbon in this set) .
South West Asia Service Medal stars are upside down
5 bronze oak leaf clusters on Joint Service Achievement Medal - AR 600-8-11, para 6-3.
NATO Medal should also yield Armed Forces Service Ribbon (for Bosnia)
United Nations Medal was awarded for 27 June 50 to 27 July 54, plus the Korean Service Medal would accompany it.
German Marksmanship Award (Schuetzenschnur) is mounted completely wrong; should have button under

center

of shoulder loop and a button under the

lapel

(not the front button) - para 29-19 c.
Category 2 Error – "I Don't Think So" Issues
and Poor & Mis-Aligned Sewing Errors (2 points each):
Lapel covering most ribbons; should have used an offset rack and/or a rack with rows of 4 ribbons.
Soldiers may wear badges above ribbons aligned with left edge of ribbons if covered by lapel –para 28-17 c (2).
While the soldier can determine order of badges within same group on the pocket flap, most wear the badge "most proud of" nearest their heart, I would expect the Air Assault to be to the wearer's left.
SF soldier who chooses to wear the Air Assault Badge and not the RANGER or SPECIAL FORCES tab?
Soutache is sewn into the front sleeve seam, instead of the back seam.
Soutache is sewn on crooked.
All sleeve items are sewn through the lining, which causes the sleeve to bunch up
Silver Star – for Desert Shield/Desert Storm? Very rare.
2x Soldier's Medal? – Vary rare to have even one.
3x Purple Heart? For Desert Shield/Desert Storm? No Vietnam Service and no OIF, OEF Service, which are the longer combat tours. Then with only 2 CIB's, when did he have time to get wounded twice in the same combat tour?
11x ARCOM's? Maybe, but not w/ 3x MSM's and 2x Joint Service Commendations, 6x JSAM and 11x AAM's?
5 OSR's? Tough in 30 years, Especially if one is in Europe (Berlin Brigade) and no Korea short tours (no Korea Defense Service medal).
Wearing a mix of manufacturers for Oak Leaf Clusters which have slightly different sizes and color shades (some thought these were old miniature versions or gold OLCs). While the Institute of Heraldry certifies manufacturers, we have see some "creep" of size and color over time. "Real" Soldiers make sure their devices all match within their rack.
Missing a clutch back for the insignia on lapel (turned up in one photo).
United Nations Service Medal for Korean War, with the rest of this guy's set? Where is Vietnam and the other NDSM stars? Either this is the wrong medal, or he is missing other medals, ribbons, devices, and years that just do not add up.
Service stripes and soutache are different colors (not ours).
"Soldier" would likely have a permanent-award Unit Citation from DESERT SHIELD/STORM, especially since her was likely an SF Soldier in a combat engagement intense enough to get wounded.
No combat jumps, but he has 2 CIB's, 3x PH's, and a Silver Star – possible, but highly unlikely given he is an SF Soldier in the engagements and campaigns he is attempting to represent.
Category 3 Error – Placement Errors (1 point each):
Enlisted US and branch insignia should be about 1" above notch –para 28-12 a (2), 28-4 b (2) (a) US is 5/8" and branch insignia is ¾" –too much plus angle.
Name Tag not centered between top of button and top of pocket, -para 28-24 c (2)(a).
Name Tag a bit crooked.
All badges are too low and should be 1/8" below top of pocket.
CIB is crooked.
Senior EOD Badge is crooked.
Pathfinder badge is crooked (the torch should be straight up and down).
Ribbon rack is not 1/8" above the pocket.
Ribbon rack is crooked.
German Marksmanship Award goes under the nameplate.
Oak leaf clusters on Joint Service Achievement off-centered.
South West Asia Service Medal stars are crooked.
NCOPD numeral "4" is mis-aligned.
The "5" on the OSR is crooked and mis-aligned.
The knots on the Good Conduct Medal are crooked.
Edges of ribbon rows are out of alignment.
Shoulder loop buttons re-attached facing the wrong direction (should face forward).
Contest Background:
"When handed lemons, make lemonade!"
Good old-fashioned advice. We have never had a contest before. And some of our customers have wondered why we require credit-card-billing-address matches when placing an order. The background to this contest explains why.
About a year and a half ago, before we began requiring credit-card-billing-address matches, a man ordered a Dress Blue uniform, service stripes, and rank from our web site using a stolen credit card. Unfortunately, he did not order any ribbons and badges from us that would have raised any red flags.
To make a long story short, the man built himself an illegal "Army" uniform by adding all sorts of locally-purchased awards and decorations to the uniform. Thankfully, the owner of the card reported the fraudulent purchase. Using our "ship to" address, local law enforcement found and arrested the "Stolen-Valor" fraud.
The uniform was recovered and returned to us. Because it had been altered and worn, we were stuck with the loss. We noticed, though, that this "wanna-be Soldier" had tons of errors on his uniform, so we decided to make some lemonade!
All Photos of the Fraudulent Uniform:
To increase your chances of winning, we recommend you view the high-resolution photos in a separate browser window for better comparison!